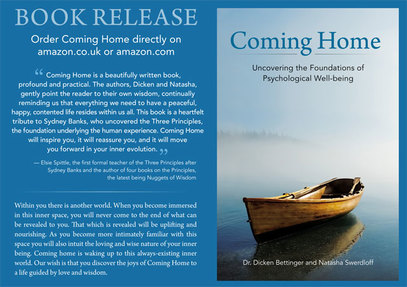 ​WELCOME!

Did you know that there are simple, yet profound, Principles that reveal the connection between the spiritual and the psychological nature of all human beings? As you realize these Principles for yourself you can truly begin to experience a sense of sacredness in the ordinary moments of your life. You will learn that these Principles are the sole source of all of your feelings and experiences, and that understanding these simple Principles is the key to raising your overall level of well-being. When your level of well-being rises, you experience less anxiety, less time feeling down, less stress, more enjoyment, a greater sense of aliveness, a light-heartedness, more confidence in your decisions, and a greater ease in all of your relationships.

When I learned this I not only gained the benefits mentioned above, but I also gained a greater spiritual sense of life—more awe and wonder, a greater sense of the sacred nature of life, a deeper trust in my capacity to access a wisdom that transcends the intellect, and a growing ability to experience the unconditional love that lies at the root of our being.

In 1972 a man named

Sydney Banks

had an unexpected, spontaneous enlightenment experience and discovered the keys to understanding human happiness and human suffering. He called these keys the Three Principles of Thought, Consciousness and Mind. Syd was my mentor in learning these Principles, and I would like to be yours. Not only can you learn these Principles, but I can guide you toward continually deepening this understanding. I call my practice Three Principles Mentoring because I love the personal and caring nature of a mentoring relationship. A mentor is a trusted guide who knows how to point you toward the connection between the spiritual and the psychological nature of life. A deeper realization of this nature, the Three Principles, is what raises your level of spiritual and psychological well-being.

I look forward to connecting with you and sharing this adventure!

Dicken

---

Dicken Bettinger, Ed.D.



"As soon as you find out how the mind works, that's the first major step toward happiness."
--Sydney Banks
"Mind and Insecurity"